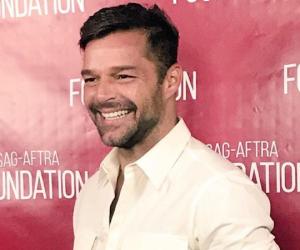 Continue Reading Below
Ricky Martin is a Puerto Rican singer who ruled the world of Latin and American pop during the 1990s. After his initial stint with the all-boy Latin pop band, Menudo, as a teenager, he parted ways to pursue a career as a solo artist. He released a couple of albums in Spanish before he was chosen to compose 'La Copa de la Vida' (The Cup of Life) as the official theme of the 1998 FIFA World Cup and later performed the same at the 41st Grammy Awards. However, it was his blockbuster single 'Livin' la Vida Loca' that brought him worldwide recognition and made him an international superstar. As a forerunner of Latin pop music, he has successfully brought the genre on the global map and made way for other popular Latin artists, such as Shakira, Enrique Iglesias, and Jennifer Lopez, into the English-speaking market. In addition to Spanish, he also recorded English-language albums that further added to his stardom. His best-selling albums include 'A Medio Vivir', 'Sound Loaded', 'Vuelve', 'Me Amaras', 'La Historia', and 'Musica + Alma + Sexo'. He is credited for selling over 70 million albums across the world till date, apart from performing concerts worldwide and bagging numerous music awards
Recommended Lists:
Recommended Lists:
Continue Reading Below
Ricky Martin
Childhood & Early Life
Martin was born as Enrique Martin Morales on December 24, 1971, in San Juan, Puerto Rico, to psychologist Enrique Martin Negroni and accountant Nereida Morales.

His parents divorced when he was just two, after which he shuffled between his father's home and paternal grandparents' house during childhood.

At six, he took up singing and acting lessons and started performing in school plays and choir soon after. By eight, he was appearing in TV commercials for soft drinks, fast-food restaurants and toothpaste.

Continue Reading Below

Recommended Lists:

Recommended Lists:

Career

He was selected in the Latin boy-band Menudo in 1984 after three auditions and gave his first performance a month later at the Luis A. Ferre Performing Arts Center, San Juan.

He traveled around the world as the band's lead singer for the next five years, performing in various languages.

In 1989, he left the group at the age of 17 after recording 11 albums and returned to Puerto Rico to complete his high school. He, then, enrolled at Tisch School of the Arts, New York University, New York City, to study acting and singing.

He dropped out of college and moved to Mexico to perform onstage in 'Mama Ama el Rock' and act in Mexican telenovela 'Alcanzar una estrella'.

He released his debut solo Spanish-language album 'Ricky Martin' in 1991, under Sony Discos, which became a hit on the Latin charts. This was followed by his second solo album 'Me Amaras' in 1993.

He debuted on the American TV with the NBC sitcom 'Getting By' in 1994. Later, he acted in the ABC's soap opera 'General Hospital' in 1995, and 'Les Miserables', a Broadway production in 1996.

His third album 'A Medio Vivir' came out in 1995 and became a turning point of his life as it sold over 3 million copies worldwide. The same year, he lent his voice in the Spanish version of the Disney animated film 'Hercules'.

Continue Reading Below

In 1998, he recorded his fourth album 'Vuelve', which hit No. 1 on Billboard Top Latin Albums, apart from becoming his first album to figure in the top 40 on the US Billboard 200.

He launched his first English-language album 'Ricky Martin' in 1999, which debuted at No. 1 on the Billboard 200 chart, and the album was declared 'the most successful by a Hispanic artist'.

In 2000, he established the child advocacy organization, Ricky Martin Foundation, to promote children's well-being and fight child exploitation and child trafficking.

He compiled his greatest Spanish-language hits on the 2001 album 'La Historia'. Two years later, he recorded a new Spanish album 'Almas del Silencio', which included chart-topping singles 'Tal Vez', 'Jaleo' and 'Y Todo Queda en Nada'.

His 2005 album 'Life' marked his return to English-language pop, which proved more successful in French-speaking nations, especially France.

He traveled the globe with his 'One Night Only with Ricky Martin' tour in 2006, performing in Latin America, United States, Europe and Africa. In between, he performed at the closing ceremony of the 2006 Winter Olympics in Turin, Italy.

He recorded his blockbuster 'MTV Unplugged' concert in 2006, which released on both CD and DVD formats.

Continue Reading Below

He embarked on a worldwide 'Black and White Tour' in 2007 and released another greatest hits album '17' in 2008, followed by '17: Greatest Hits' in 2011 in the UK and 'Greatest Hits: Souvenir Edition' in 2013 in Australia.

In 2010, he published his autobiography 'Me', which was included in the Bestseller list of The New York Times.

He released his chart-topping album 'Musica + Alma + Sexo' in 2011, which reached No. 1 on the Billboard Top Latin Albums.

He made a special appearance on an episode of Fox TV's show 'Glee' in 2012. His 2013 English album 'Come with Me' was followed by 'Ricky Martin Live' concert tour.

He released his first children's book 'Santiago the Dreamer in Land Among the Stars' in 2013.

In 2014, he embarked on 'Mexican One World Tour' and ended the concert at the opening ceremony of the 22nd Central American Caribbean Games.

Continue Reading Below

Recommended Lists:

Recommended Lists:

Major Works

His single 'Maria', included in the 1995 album 'A Medio Vivir', became his first international hit single with over 5 million copies sold worldwide, reaching No. 1 in France, Belgium Wallonia and Australia.

In 1998, he composed the smash hit single 'La Copa de la Vida' (The Cup of Life) as the official theme for the FIFA World Cup which he performed at the tournament's final at the Stade de France.

His single 'Livin' la Vida Loca' from his debut English album 'Ricky Martin' created history on Columbia Records by becoming the No. 1 selling single and is regarded as his biggest hit till date.

His 2000 album 'Sound Loaded' sizzled the music charts with its two singles 'She Bangs' and 'Nobody Wants to Be Lonely', both reaching No. 1 on Hot Latin Songs.

Recommended Lists:

Recommended Lists:

Awards & Achievements

In 1999, he won the Lo Nuestro Award for 'Pop Song of the Year' for his single 'La Copa de la Vida' and Grammy award for Best Latin Pop Album for his Spanish-language album 'Vuelve'.

He received the Lifetime Achievement Award at the Lo Nuestro Awards in 2004.

The International Center for Missing and Exploited Children awarded him with the International Humanitarian Award in 2005.

Continue Reading Below

In 2006, he received the Latin Recording Academy Person of the Year from the Latin Recording Academy.

In 2007, he received a star on the Hollywood Walk of Fame.

His album 'MTV Unplugged' bagged the 'Best Male Pop Vocal Album' and 'Best Long Form Music Video' at the 2008 Latin Grammy Awards.

Recommended Lists:

Recommended Lists:

Personal Life & Legacy

His was in a relationship with Mexican TV presenter Rebecca de Alba but this on-off relationship ended in 2005 after 15 years.

In 2008, he became the father of twin sons, Matteo and Valentino, borne by a gestational surrogate.

In 2010, he accepted his homosexuality status and declared his relationship with economist, Carlos Gonzalez Abella, in 2011. However, the two separated in 2014.