Kutch could be an island again: Report | Ahmedabad News
AHMEDABAD:
Kutch
, which was an island in the distant past, may yet again get surrounded by water in the next 30 years. By 2050, the rising sea may also enter Surat city limits, cautions a study published on October 29 in the 'Nature Communications' journal.
The study titled 'New elevation data triple estimates of global vulnerability to sea-level rise and coastal flooding' by Scott A Kulp and Benjamin H Strauss from
Climate Central
cautions that about 34 crore people across the world would get affected by rising sea level. The sea is expected to rise by up to two metres by 2050.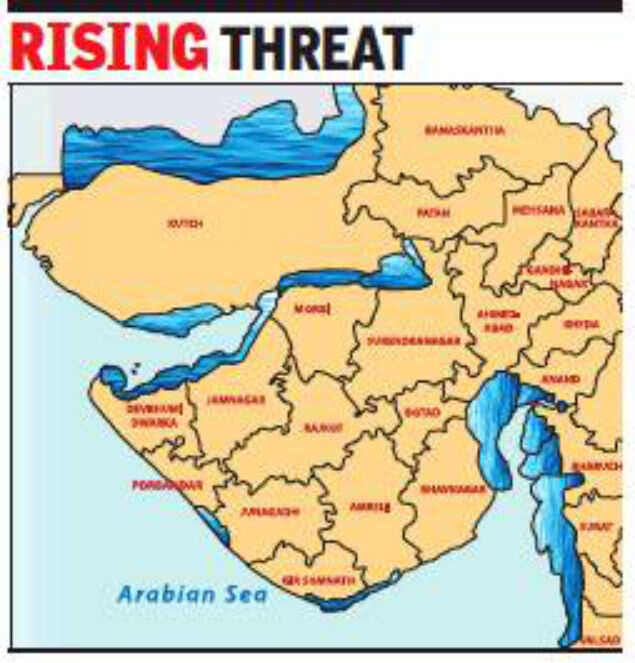 India is one of the eight Asian countries – others being China, Bangladesh, Vietnam, Indonesia, Thailand, the Philippines and Japan – which would account for 70% of the affected population.
Gujarat, with the longest coastline in India — 1,617 km — would bear the brunt of climate change and rising sea level, the map released by researchers shows. Kutch, Surat, Bhavnagar and Bharuch districts would be most affected. Sea ingress is projected into the municipal limits of Surat and Bhavnagar cities. Petrochemical hubs of Dahej and Hazira and port of Kandla would be among other key areas affected by the phenomenon.
Moderate to less impact is likely in Surendranagar, Morbi, Jamnagar, Devbhoomi Dwarka, Porbandar, Junagadh, Amreli, Anand, Navsari and Valsad districts.
Earlier, several studies had predicted adverse impact of climate change and rising sea levels on Gujarat's shore including ones by Indian Space Research Organisation and National Centre for Sustainable Coastal Management. The report in Nature Communications, for the first time, claims that the projected impact would be five to ten-fold severe than anticipated in 2050 and 2100.
The researchers, however, mentioned they have considered only elevation and not coastal defences such as seawalls or levees. The study also details impact of rising sea level beyond sea ingress.
Local experts say the report is a wake-up call especially after of years of degradation of coastal areas, loss of mangroves, unchecked mining activities and groudwater exploitation which have already resulted in high salinity ingression.
Apoorva Oza, CEO of Aga Khan Rural Support Programme (India), said that sea ingress could hurt Gujarat on multiple levels. "From non-availability of drinking water and irrigation water for farming to livelihood of lakhs of people can get affected. At a time when projections are depicting the worst-case scenario, the need of the hour is to map the vulnerable areas and begin action today to save our tomorrow," he said.