RAIPUR: Santan Nirmalkar with his five children and wife in Mungeli district of
Chhattisgarh
await justice for equality and acceptance in society since the family has been leading an
ostracised
from last two years and is dependent upon neighbouring village for small-time work and money.
The family suffered a two-fold setback after their young son died in a road accident and then the community declared them ostracised because of their inability to host a proper banquet of death for community people. Distressed with poverty, abandoned life with no work available at native place, Santan is running from pillar to post with letters written to government authority and says that there's only one way out to get rid of the harassment-suicide.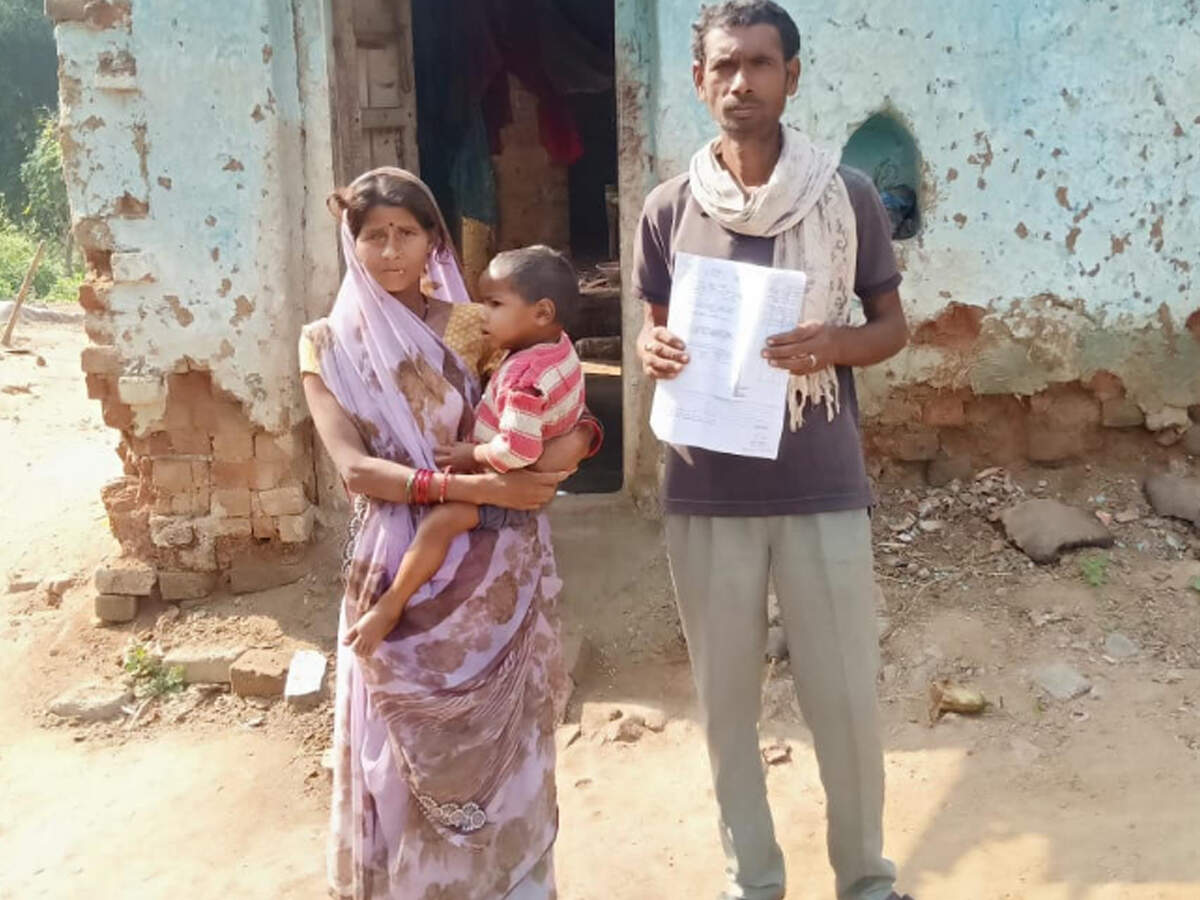 A resident of Ghatoli Para in Mungeli, Santan lives in extreme poverty with his little children and wife at a dilapidated house. With no human contact, community programmes or availability of grocery in the village, life seems suffocating to him.
Talking to TOI over phone, Santan said he was sitting at the police station with a letter of complaint against community members who have subjected him and his family to lead an ostracised life in harassment that gives him a feeling like that of "untouchable".
"I lost my 20-year-old son in the end of 2016 in a road accident. This created little rift between me and my brother since his son was with my son when the incident took place and I had questions to ask him. The Dhobi community I belong to took advantage of this rift when I organized a death feast for the village. The community members would often get hold of my brother and complain that I failed to serve proper feast to all villagers. While my brother fought over this with me, when confronted, the community representatives said that the banquet of death was not a per the protocol," Santan said.
In a mellowed down voice, Santan said that the protocol of banquet of death refers to serving food to each member of each family in the village, which wasn't possible given his poor financial condition.
Soon, the community declared his family ostracised and warned everyone to keep distance.For past two years, the family isn't invited to any village gathering, function, nor Santan is given employment nor he can buy vegetables from village market. He's forced to walk down to neighbouring village to get a daily wage job of Rs 70-80 per day and is somehow leading a life.
"But it suffocates me when a grocery store keeper is fined when he sells me an item in case of emergency or a close relative visits my home on birth of my child has to pay a price of it coupled with threats. My children feel abandoned in no outside communication. After two years of harassment I approached police and have submitted a written complaint in hope of justice and acceptance in the society back to lead a normal life," Santan said adding that he would commit suicide if this continues.
When contacted CD Tirkeyadditional superintendent of police of Mungeli said that he has received the complain and taking serious concerns over his sufferings, an investigation was immediately ordered. Though there's no law to punish offenders of ostracisation, , action can be takenin case of wrong extortion of money, threat and beatings is concerned. Social boycott in Chhattisgarh is so rampant that many such incidents have led people to commit suicide or murder.
Activist Dr Dinesh Mishra says that Chhattisgarh has more than 25,000 families living ostracised lives for defying archaic traditions and marrying outside the caste, refusing to get tonsured on the death of a relative or refusing to lead a widow's life.Recently on October 24, TOI reported about a mother been ostracized by community for allowing her daughter get married to the man of her choice despite belonging to same community in Mahasamund district. The community members objected and slapped fine of Rs 11000 along with a feast of 'bakra bhaat' (meat-rice), to which the woman complied with, but continues to lead an ostracized life.
On October 4, three couples and their families were ostracised by village head in Raigarh district when the youths chose for love marriage and they expressed inability to pay off compensation of Rs 3 lakh fine slapped upon them. Raigarh police booked seven persons after complaint received by families for issuing such a diktat. Dr Mishra of Andhshraddha Nirmoolan Samiti has written repeatedly to the President, Prime Minister, Governor, chief minister, chief secretary, and home minister for an anti-ostracisation law, but in vain.