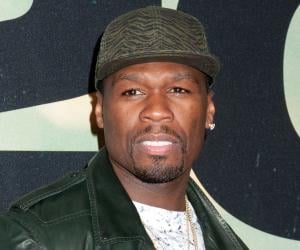 Quick Facts
Nick Name: Interscope, Fiddy, Boo Boo
Nationality: American
Famous:
Rappers

Record Producers

Age: 44 Years, 44 Year Old Males
Sun Sign: Cancer
Also Known As: Curtis Jackson, Curtis James Jackson
Born in: New York City, USA
Famous as: Rapper, Composer, Businessperson, Record producer
Height: 6'0″ (183 cm), 6'0″ Males
Family:
mother: Sabrina Jackson
children: Marquise Jackson, Sire Jackson
City: New York City
U.S. State: New Yorkers
Founder/Co-Founder: G-Unit Records, G-Unit Clothing Company, G-Unity Foundation Inc., G-Unit Books
More Facts
education: Andrew Jackson High School
Continue Reading Below
50 Cent (Curtis James Jackson III) is an American rapper, record producer, businessman and actor. 50 Cent started his musical career with a series of hit mix tapes after he got disappointment with his very first album which he recorded with Columbia and never saw light of the day. A controversial yet popular figure in the Gangsta Rap genre, 50 Cent's criminal history has been quite a talk of the town. He has had quite a rough childhood. Growing up in Queens, he began selling drugs at a very young age and in the year 2000, he got shot a total of 9 times, surviving the attack. Taking it as a life lesson, 50 Cent started concentrating on his musical career, and his first claim to fame came in form of 'Get Rich or die Tryin'. The album turned out to be a blockbuster and has been honoured as an 8 times platinum ever since. He credits Eminem to be the one person who trusted him when nobody else did and says that he has been a huge admirer of the rapper. Eminem once said that the troubles 50 Cent has faced as a kid shows in his lyrics, and the pain, horrors, troubles will resonate with the listeners on a deep level. And he was right as, to this date, 50 Cent has sold nearly 30 million copies of his records, and is recipient of many music awards. Apart from music, he has a thriving acting career and has rubbed shoulders alongside some of the biggest actors and directors in Hollywood. His business ventures have also been quite successful and 50 Cent is frequently listed among the richest rappers of our times.
Recommended Lists:
Recommended Lists:
Continue Reading Below
50 Cent
Childhood & Early Life
50 Cent was born as Curtis James Jackson in a Jamaican Neighbourhood in Queens, New York City on July 6 1975 to a drug dealer mom. When 50 Cent was 8 years old, she died in a strange fire accident, which compelled his father to leave as well and the little James was left in care of his grandmother.

As a kid, 50 Cent had no musical aspirations and in order to make the ends meet, he followed the footsteps of his mother and started trading drugs by the age 12. He would bring guns and drugs to his school and even got caught once.

His street peddling career came to a halt when he got arrested for possession of cocaine, heroin and crack while he was a teenager. He was sentenced to prison and for the first time, had a reflection of where his life was headed.

He says that he started boxing at the age of 11, because he wanted to be able to defend himself against his enemies, which apparently he made quite a lot as a young street kid.

Recommended Lists:

Recommended Lists:

Career

50 Cent's hip hop career dawned when he came in contact with a New York Based hip hop group named Run

DMC. Jam Master Jay was a member and the first person to understand 50 Cent's potential and promised to help him to come out with his debut album, a promise which he couldn't keep. 50 Cent then approached Columbia, who also gave a false hope to the young aspirant.

He then took the matter in his own hands and formed a crew called G

Unit along with Tony Yayo and Lloyd Banks. The mixtape they produced titled 'Guess Who's Back' grabbed Eminem and Dr. Dre's attention and they signed 50 Cent up immediately for their respective record labels Shady Records and Aftermath Entertainment. However, the mix tape was mostly 50 Cent and his crew mocking other rappers while duplicating their music, but his talent showed and New York Nightclubs started buzzing with them.

Eminem collaborated with 50 Cent on the '8 Mile' soundtrack and the song 'Wanksta' became a hit. Eminem and Dr. Dre then mentored 50 Cent and his debut album 'Get Rich or Die Tryin' came out as a result, to a massive success in 2003. The album had a few tracks produced by Eminem and Dr. Dre and coveted magazine The Rolling Stone gave it thumbs up. The album debuted at the top spot in the Billboard 200 chart and 50 Cent became an instant sensation.

His next venture, produced under his group G

Unit titled 'Beg for Mercy' came in late 2003 to a widespread acclaim. In 2005, 50 Cent released his second official album titled 'The Massacre'. For the following six weeks, the album held the top spot at the Billboard 200. In 2007, 50 Cent released his third album 'Curtis', taking the number 2 spot at the Billboard 200. The album was supposedly based on real life events witnessed by 50 Cent as a kid.

Continue Reading Below

In 2009, 50 Cent unveiled his fourth studio album titled 'Before I Self Destruct' which was a moderate commercial success. In 2012, over a beef with Interscope Records, 50 Cent left with his next album still unreleased. The album titled 'Animal Ambition: The Untamed Desire' got released in 2014 after 50 Cent reworked on it and included some more songs.

Apart from being a hip hop master, 50 Cent is known for his impeccable business sense as well. He has invested in a lot of profitable ventures which enabled him to own a fortune. He happens to be involved in industries such as gaming, liquor, book publishing, footwear, apparel, video games and many more.

50 Cent's first business venture was in form of a 'Vitamin water' drink in 2004 titled 'Formula 50'. Along with that, 50 Cent has two film production companies wholly owned by him titled 'G Unit Films' and 'Cheetah Vision' indulged in producing low budget action thriller films. Over the years, 50 Cent has also invested in shares and bonds, which enabled him to secure millions of dollars over the years.

50 Cent has also achieved fame as an actor appearing in films such as 'Freelancers', 'Setup', 'Blood Out', 'Before I Self Destruct' and a semi

autobiographical film 'Get Rich or Die Tryin'.

Recommended Lists:

Recommended Lists:

Personal Life

In 2006, 50 Cent's girlfriend gave birth to his son and claimed USD 50 millions for taking care of him. Her appeal was rejected as the judge called it 'a love affair gone sour'. The son was named Marquise Jackson and 50 Cent said that his son changed his outlook on life and compelled him to change his ways to lead a better life.

Model Daphne Joy and 50 Cent dated for some time and had a child together, who was named Sire Jackson. At the age of two, Sire modelled for a headphone brand and earned more than half a million from the deal.

In 2005, 50 Cent expressed his political views and condemned the statement where the fellow rapper Kanye West said that 'George Bush doesn't care about Black People'.

In 2000, while visiting his grandmother, 50 Cent was shot nine times, surviving miraculously. However, the attacker was killed a few days later. 50 Cent was hospitalized for two weeks.

50 Cent has been known for constant beefs with fellow rappers such as The Game, Rick Ross and Ja Rule.

50 Cent's estimated net worth is USD 15 million.

Recommended Lists:

Recommended Lists:

| | | |
| --- | --- | --- |
| 2010 | Best Rap Performance by a Duo or Group | Winner |

| | | |
| --- | --- | --- |
| 2003 | Best New Artist in a Video | 50 Cent: In da Club (2003) |
| 2003 | Best Rap Video | 50 Cent: In da Club (2003) |

Translate Wiki to Spanish, French, Hindi, Portuguese

Article Title

– 50 Cent Biography

Author

– Editors, TheFamousPeople.com

Website

– TheFamousPeople.com

URL

– https://www.thefamouspeople.com/profiles/50-cent-9333.php

Last Updated

– June 16, 2017